A particularly difficult issue was any female forced labourer becoming pregnant. The recruitment offices had been instructed to send no pregnant women as workers to Germany. Female forced labourers who became pregnant during their deployment in Germany, were initially sent back to their home country. When the number of pregnancies amongst the Eastern forced labourers was increasing and one could assume that the pregnancies were brought about intentionally in many cases, in order to be released from the deployment and returned home, the General Representative for Labour changed this rule.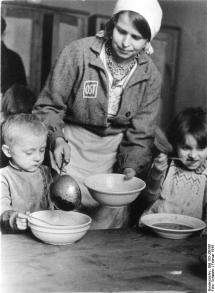 Serving meals in a day nursery of an "Workers from the East" camp, February 1944 (Photo taken for propaganda purposes)
Source: Federal Archives, Bild 183-J09198; Photograph: Schwahn
Places for childbirth for forced labourers were now established. Approximately one in four pregnancies of Polish women and "Ostarbeiter" was terminated by forced abortion.
In June 1943 the Reichssicherheitshauptamt initiated that those children who could not be visibly distinguished from German children by their outer appearance or who had one parent of
"Germanic ethnic belonging" were to be sent to special nursing homes, to raise and educate them as German children and prepare them for their adoption by German couples.

Those children, who could not be assessed as being children of "good racial background" were sent to "nursing homes for children of foreigners", where they were deliberately underfed and where the mortality rate was between 25 and 50 %, in some cases even at 90 %.
Tens of thousands died of starvation in a very painful way. The funeral expenses of 15 Reichsmark had to be paid by their poor mothers.