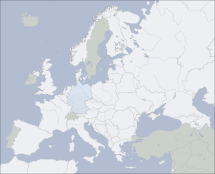 States affected by the German so-called "Assignment of Foreigners" during the Second World War (highlighted)
On 1st September 1939 World War II began with the German attack of Poland. Behind the approaching troops the Federal Labour Institutions immediately began erecting their service offices in order to recruit foreign workers to work as volunteers or bring them by force to Germany in cooperation with the "Reichssicherheitshauptamt" and the German economy.
Just the prisoners of war could not counteract the lack of German workers, caused by conscription calls of the German Armed Forces and the rapidly growing demand of manpower of the German war industry could not be met.
Transport of forced labourers from the Soviet Union in June 1942
Source: Bundesarchiv, Bild 183-B25447; Foto: Rabenberger
More than 12 million women and men from all across Europe who suffered severe deprivation of their rights by regulations and contractual conditions, fooled by false promises, accommodated in poor baracks and camps, malnourished and held back from returning to their home countries worked in all parts of the German Reich. Abused as human material for the production in the defence industry as well as in agriculture and in public utility operations they became forced labourers of the Germans.
Most of them came from Poland, Belarus, Russia and Ukraine.